Today suddenly there's lots of thumbnails missing on AstroBin. I'm investigating, thanks in advance for your patience!

UPDATE 2020-02-16 8:18 PM GMT

It appears that something serious happened on AstroBin today.

I've now been investigating and trying to mitigate for 12 hours straight, but unfortunately I am certain that a currently unknown number of you have suffered the loss of some (many, in some cases) original uploads.

The data associated to images, on AstroBin database (which is a different system than the place where the image files are stored), is safe.

I don't know the reason yet, but in the meanwhile I have changed all the passwords used by AstroBin (database, storage, servers, etc). Note that this has nothing to do with your passwords you use to log in to AstroBin: they are encrypted.

For now if you see the message "We are very, very sorry, but it appears that your image suffered a catastrophic data corruption", then that image is gone.

Luckily you don't need to start over and lose the data, the comments, likes etc. You only need to replace the image file on that form, and hopefully you still have it on your computer.

Please visit your gallery after log-in, and the image thumbnails with the sad face are affected. If you are not logged-in, affected images will be hidden.

I can't even begin to explain how much I'm currently in shock, literally, and this is why this message is intentionally brief.

I will continue to investigate, and I'm awaiting help from the Amazon Web Services tech support.

In the meantime, if you are heavily affected, I want to say that I am incredibly sorry, though at this time I don't know where the fault lies.

After the situation settles and I know more, I will offer compensation for the data loss with free subscription upgrades.

Thank you for your understanding and please keep an eye on this forum thread for updates.

UPDATE 2020-02-17 00:00 AM GMT

Going to bed now, at this time there's nothing more I can do after 16 hours. Just a heads up if you ended up here after I didn't reply to your email: I'm being swamped with messages and I'll try my best to reply to all, but it's a lot. I expect to have several hundreds emails when I wake up. The site is currently stable.

UPDATE 2020-02-17 8:38 AM GMT

Good morning. I got some sleep between 2 and 6:30 am, but unfortunately I'm not feeling great. It doesn't help that I have been sick with flu for a few days.

I want to thank all of those who strongly empathized with me: I received many messages of support and understanding. I'm feeling numb and quite in shock, and extremely embarrassed that this happened. I literally want to go and hide in a hole right now.

The current situation is that I'm still awaiting the Amazon tech support to get back to me. They said response time was 12 hours and it's been 20, but it was Sunday.

I hope they can do a data recovery, but at the core of this lies the fact that I misunderstood the core principle of data safety on Amazon AWS. The AWS S3 FAQ states:

"your objects are automatically stored across multiple devices spanning a minimum of three Availability Zones, each separated by miles across an AWS Region. Objects stored in the S3 One Zone-IA storage class are stored redundantly within a single Availability Zone in the AWS Region you select."


When I started AstroBin in late 2010, I incorrectly assumed that this level of redundancy would protect me against data loss. I still hope so but reading this in 2020, it doesn't send quite the same message. Unfortunately I didn't know about "versioning" on S3 back then, and data replication was only introduced in 2015 and I didn't know that either.

AWS S3 for me has been amazing in the way it was a "setup and forget" thing that just worked, and I might have been under the wrong assumption about data protection all these years. Plus I intentionally didn't put any code on AstroBin that would delete anything from S3, so avoid bugs that would delete something I didn't mean to delete (this is at the cost of having lots of unneeded data lying around that costs money to host). We will know once tech support gets back to me today.

I have now enabled both versioning and data replication, and I'm working on having a 3rd backup option in AWS Glacier (long term, slow retrieval data storage).

If AWS tech support cannot retrieve the lost data, this is truly all my fault. It would be easy to blame it on the lack of time, on the fact that AstroBin has been a side gig for me so far after my day job and my parental duties as a father two school kids, and the fact that working alone on it was always a struggle to just stay afloat. It would be easy but I won't do it: I should have prioritized making sure that the my AWS configuration was more solid. I should've paid a consultant to review my configuration and find this issue. Shoulda woulda coulda.

I want to thank everybody who has been replacing their images so far, those who have offered words of comfort (it has truly been awful being in my shoes the past 24 hours). I would like to offer my understanding to those who decided to leave.

To everybody who sticks around, I will offer compensation in terms of free Premium time and/or free subscription upgrades. I have been working really hard the past 2 months to offer a new exciting feature on AstroBin that I was going to launch this month, and was extremely excited about, but it looks like I'm going from hero to zero.

Meanwhile, stay tuned for updates.

UPDATE 2020-02-17 10:50 AM GMT

While I still don't know if the missing data can be recovered (still waiting for Amazon), it appears that a lot of images show the sad face even if the original is still there. I'm investigating how to to fix those automatically. If you see one, click on the Actions menu and then "Flag malfunctioning thumbnails" and in many cases that will repair your image.

I'm overwhelmed by the messages of support, thank you all!

Personally I'm not giving up on AstroBin, as long as you're not!

UPDATE 2020-02-17 6:11 PM GMT

The current information that I have from Amazon's customer support is that the lost images are irrevocably, permanently lost. I'm still trying to escalate the issue as I have a hard time believing it, but it might as well be the truth.

On the plus side, I really don't know how to express how amazed I am at the support I am receiving. Only a handful of people have cancelled their subscriptions or deleted their account, and I have received at least a hundred messages of support: here, on PM, as emails, even reading them on CloudyNights. It seems that the general sentiment is that while this is very bad, people are interested in the continuity of AstroBin as a community first, and as a platform second. My greatest fear was that AstroBin wouldn't survive this: not for the money it makes me on the side, but for my investment in it for the past 10 years, for the legacy it possesses and for everybody here who makes this community great.

It seems that this fear might be unfounded, as so many of you have been telling me that they will stick with AstroBin. In many cases, you have most images stored on your computer or external HDD, and will be replacing them.

I feel so overwhelmed with positive emotions, you bunch are incredible


THANK YOU

UPDATE 2020-02-17 09:10 PM GMT

I was able to write code that makes it so all these "false positives" are automatically fixed. By false positive, I mean that you get the :'( face on the thumbnail, but then click on the image and are able to recover it with Edit -> Thumbnails or Actions -> Flag malfunctioning thumbnails.

This is putting a bit of strain on AstroBin's server, so I doubled the capacity again (up to 4x from normal, but I don't care about the bill at this point). I will keep an eye on it, I see that there have been some 502/504 timeout errors. If it proves to be too much I will turn this fix off for a while. Right now the traffic on AstroBin is the highest it's ever been. A lot of people on this thread, and a lot of people re-uploading images.

So now if you see that you get the hour glass on your thumbnail, just give it a minute and perhaps refresh the page: AstroBin will be begin work to salvage the salvageable every time a thumbnail is viewed.

I just checked several profiles and they were magically back!

UPDATE 2020-02-17 10:33 PM GMT

Senior engineering staff at Amazon is looking more deeply into the issues to see if they can salvage anything!

UPDATE 2020-02-18 6:54 AM GMT

Unfortunately Amazon weren't able to save anything, despite trying.

Many of you have been busy fixing your galleries, which is AMAZING.

YOU are saving AstroBin, so I owe you all my thanks. Yesterday, literally only 6 people deleted their accounts, and one of them asked me if it can be restored

I've said it enough so I won't bore you more, but the response has been incredibly positive.

Today I'm going to publish a statement with the full explanation of what happened, how, what's been done to prevent it will happen again, what to do moving forward.

My flu is also gone (tho my daughter has it now), so today I need to work on my day job and I won't be active here until evening, except for lunch break.

UPDATE 2020-02-18 12:20 PM GMT

I reployed a fix for an issue with corrupted (read: missing) revision image files: so now you get redirect to the correct edit page. Additionally, once you've fixed the main image page, if needed, you can fix or delete individual revisions by using the small buttons that appear when you hover your mouse on your revision thumbnail on the main image's page.

UPDATE 2020-02-18 1:48 PM GMT

I published a statement here.

UPDATE 2020-02-18 7:51 PM GMT

I just deployed a fix that lets you access images that are corrupted, but the final revision is fine. This should solve the problem that some of you have been having, trying to upload an image again but getting stuck.

UPDATE 2020-02-19 00:01 AM GMT

Just had a very pleasant call with the director of Amazon S3 and some product owners/engineers within the AWS organization. They were very interested in hearing my feedback and offering explanations that cleared my misconception about S3 that caused this issue in the first place. I really want to thank them for their time, first of all in attempting to recover the data, and secondly in being so attentive towards a "small fish" like me and AstroBin.

As it's now 1 AM on the third day with very little sleep, I finally can get some rest knowing that the website is stable and many of you are rebuilding. Tomorrow I have to be at my day job



Thanks again to everybody who showed me support: hundreds of messages on forums, PM, email, and Facebook. I replied to most, I think, but if I missed some that needed a reply, please don't hesitate to ping me again.

UPDATE 2020-02-19 10:07 AM GMT

Fixed an issue that caused corrupted images that you deleted to come back from the grave and appear again in your gallery (only visible to you tho). So if you delete some broken images and see them again, please delete again)

UPDATE 2020-02-19 01:10 PM GMT

I deleted all the references to missing avatars, so now instead of a broken (X) image, you get the default anonymous avatar. You can update your own avatar here: https://www.astrobin.com/avatar/change/

UPDATE 2020-02-19 08:16 PM GMT

I just want to once more assure everyone of the following facts, since I get questions:
  1. There are no more images getting deleted. There haven't been since Sunday morning when I noticed the incident.
  2. There are no security breaches, and there have never been. Passwords are encrypted. Credit cards have never been stored on AstroBin at all.

I would also like to inform that sometimes AstroBin can be a little slow, these days, due to very intense traffic. Not just regular traffic (which is only about 1.5-2 times as much as normal) but heavy traffic with image uploads. For those who find this interesting, I have scaled the server up to 32 CPUs and 68 GB RAM, and I'm running multiple AstroBin services in parallel to accommodate the demands.

Such slowness might cause delays in opening pages, and loading thumbnails, which might get them stuck on the hourglass symbol, but there's no reason to panic.

Hope this helps!



UPDATE 2020-02-20 07:17 AM GMT

For peace of mind, if you reuploaded an image and see that the thumbnail is slow to come back, go to Edit basic information and click on the "current image file" link. That's your original and you will confirm that it's fine. AstroBin is still under high load but is fine! This is also now a way to download your originals anywhere, before I implement a bulk export.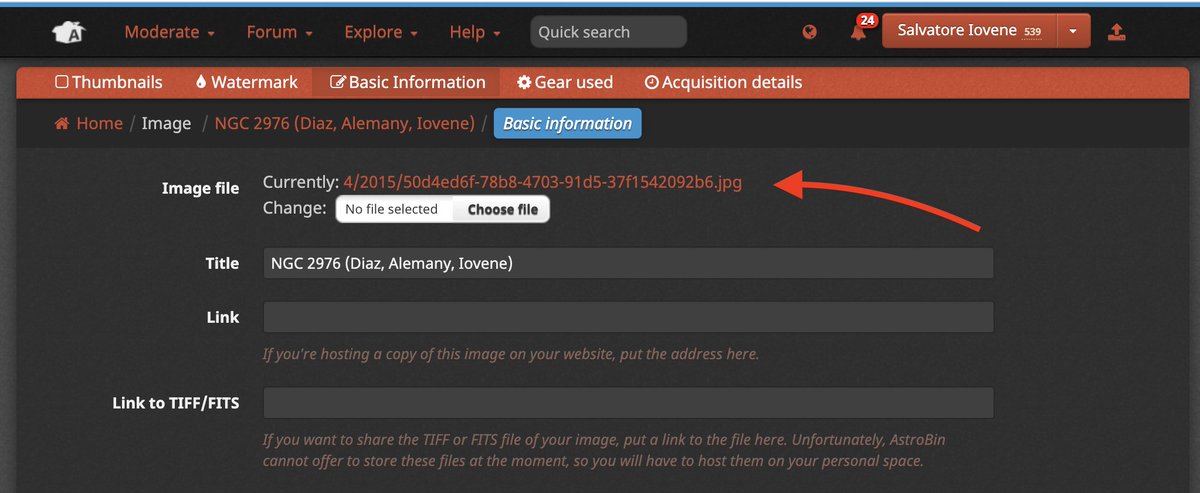 UPDATE 2020-02-21 08:28 PM GMT

- I have just fixed a bug that would cause incorrect thumbnails when replacing an image with one of a different size (same for revisions). It was always there but we never noticed because replacing images wasn't possible before Judgement Day.

- I have also fixed a bug that prevented the image cropper to work when editing a revision. Remember you can replace individual revisions and even re-crop the thumbnail by clicking on the pencil icon on a revision.

- Today I ran a script to fix the missing plate-solving annotations, which unfortunately caused a lot of notifications, sorry about that. I will fix the script to skip the notifications and run it again for the remaining annotations that need to be fixed.

- You guys are awesome! In less than 4 days you have restored 25% of the lost content!

Do you want more updates? Follow AstroBin on Twitter!